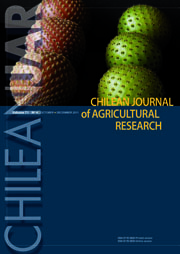 CHILEAN JOURNAL OF AGRICULTURAL RESEARCH
Edited and published by Instituto de Investigaciones Agropecuarias (INIA), Ministerio de Agricultura, Chile
VOLUME 71 - ISSUE 4
Pages 497 - 639
October - December
Cover photography: Copao fruit (Eulychnia acida Phil.)
Source: María Angélica Salvatierra, Instituto de Investigaciones Agropecuarias, INIA Intihuasi, La Serena, Chile.
REVIEW
Nutritional strategies to improve nitrogen use efficiency by grazing dairy cows
Authors: Juan Pablo Keim, and René Anrique
SCIENTIFIC NOTES
Herbicidal potential of Drechslera spp. culture filtrates against Parthenium hysterophorus L.
Authors: Arshad Javaid, Amna Javaid, and Muhammad Akbar
Reviewers Volume 71
Authors: