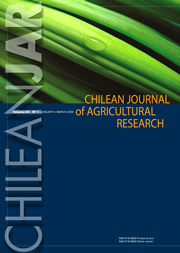 CHILEAN JOURNAL OF AGRICULTURAL RESEARCH
Edited and published by Instituto de Investigaciones Agropecuarias (INIA), Ministerio de Agricultura, Chile
VOLUME 69 - ISSUE 1
Pages 3 - 118
January - March 2009
Cover photography: Chives (Allium schoenoprasum L.)
SCIENTIFIC NOTES
Effect of injecting hydrogen peroxide into heavy clay loam soil on plant water status, net CO2 assimilation, biomass, and vascular anatomy of avocado trees
Authors: Pilar M. Gil M., Raúl Ferreyra E., Cristián Barrera M., Carlos Zúñiga E., and Luis Gurovich R.
Comparison of root induction in mature filbert (Corylus avellana L.) explants by Agrobacterium rhizogenes and indolbutiric acid
Authors: Manuel Sánchez-Olate, Patricia Sáez, Priscila Cartes, Carolina Alvarez, and Darcy Ríos
Encapsulated somatic embryos and zygotic embryos for obtaining artificial seeds of rauli-beech (Nothofagus alpina (Poepp. & Endl.) Oerst.)
Authors: Priscila Cartes R., Hermes Castellanos B., Darcy Ríos L., Katia Sáez C., Scarlette Spierccolli H., y Manuel Sánchez O.